Urban Fantasy Cruise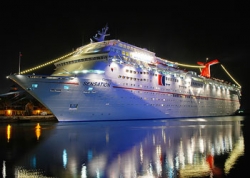 Carnival Cruise Line
Port In: Mobile, Alabama

Cruise To Cozumel

Package Details:
Cruise Dates Dec 7-11, 2017
Debark Port: Mobile, Alabama || Ports Visited: Cozumel
Length of Cruise: 4 days ||
Leaves 3p Thurs 7th returns on Monday 8a
Mobile Airport Code: MOB
Package Includes All Of the Following:
Your Cabin For All Nights
All You Can Eat & Drink ( non-alcoholic) Plus ...
THE EXCLUSIVE COZUMEL ON ISLAND RETREAT
w/ ALL YOU CAN DRINK AND EAT ALL DAY!
WAIT, that is not all ... you also get access to:
Access To The Open Bar Welcome Reception
Upto 10 Hours Of Open Bar Throughout Weekend
All 8 Exclusive THEME Parties & Events Including
The Bust A Gut Comedy Show || Spoken Word Concert

I survived Cozumel Gift Bag and T-shirt
Official Weekend Mixtape
Please Note: Carnival Cruise Lines Is Design To Entertain The Masses. Therefore of course they have other entertainment on board. However, our events cater to us the entire weekend and our line up of events and on island excursions that are included with our package are exclusive to us, that said, if you do not book with us you will be required to purchase a party pass to attend any of our events. Party Passes will start at $325 per person and not available at this time.
Upgrades
All cabins are inside cabins unless otherwise requested. They are 1st come 1st served, however to confirm a specific cabin type of (inside, no window or outside w/window cabin) is only $45 additional per person ( if single cabin at $85). We will confirm the type but we can not confirm the floor until final payment. (make this upgrade payment at 2nd payment time)- However in comment section of reservations set up please state OUTSIDE in the comment box
Pricing Information

3 People:
$650.00 per person
2 People:
$675.00 per person
1 Person:
$975.00 per person
Payment Plan
Hold Your Package Today To FREEZE The Price & Package:
Once Held, We Create You A VIP Group Link, THEN Friends
Can Pay Through Link w/Their Own Cards & See Package Details.
Pay $50 today to hold package

$150 on or before 09 / 05 / 17

$200 on or before 10 / 10 / 17
Final on or before 11 / 3 / 17
*Registration payments are not apart of the package cost. The registration payment holds the package while you make payments | creates a group account & takes package out of inventory.