Urban Fantasy Cruise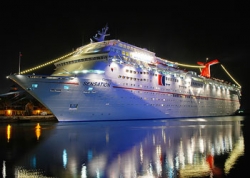 Victory - Carnival Cruise Line
Port Of Miami



Cruise Dates Are: Feb 15 - 18, 2019
Cruise Port(s): Miami -Nassau - Miami
Cruise Times: Leaves 3p Friday Returns 10a Monday
Airports Code Options: MIA or FLL
Your Package Will Include The Following:
FREE OUTSIDE CABIN UPGRADE
...with on time payments
Your Cabin On Cruise For 3 Nights
All You Can Eat & Drink (non-alcoholic)
Normal Cruise Activity Options
YOUR PACKAGE ALSO INCLUDES:
The Exclusive SET Network Experience Package
OPEN BAR Welcome Reception
3 Nights of Exclusive theme parties
Exclusive Comedy Show
Exclusive Urban Film Review
Exclusive Spoken Word Concert
FREE cabin credits to spend on the boat
ALL-STAR GAME WATCH PARTY
Professional Motor-Coach Transfers While On The Island
All you can drink and eat ( while on island) does include alcohol
Exclusive Fantasy Island Excursion in Nassau
Free Access To (non-motor) Water Sports While On The Island
All-Star Gift Back Pack
All-Star Mixtape
Pricing Information

3 People:
$685.00 per person
2 People:
$685.00 per person
1 Person:
$850.00 per person
Payment Plan
Hold Your Package Today To FREEZE The Price & Package:
Once Held, We Create You A VIP Group Link, THEN Friends
Can Pay Through Link w/Their Own Cards & See Package Details.
Pay $50 today to hold package

$150 on or before 04 / 03 / 18

$100 on or before 05 / 15 / 18

$200 on or before 06 / 19 / 18

Final on or before 07/ 17 / 18
*Registration payments are not apart of the package cost. The registration payment holds the package while you make payments | creates a group account & takes package out of inventory.