Urban Fantasy Cruise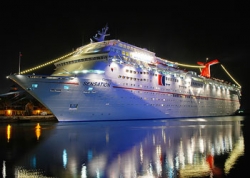 Carnival Sensation Cruise Liner
Port Of Miami - 5 day Party Cruise



Cruise Dates Are: Sept 9 -14, 2019
Cruise Port(s): Miami -Grand Turks - Cays Island - Nassau
Cruise Times: Leaves 3p Monday Returns 10a Saturday
Airports Code Options: MIA or FLL
Passports ARE NOT required for this cruise
Your Package Will Include The Following:
Your Cabin On Cruise For 5 Nights
(all cabins standard level, see pricing for upgrades below)

All You Can Eat & Drink (non-alcoholic)

Normal Cruise Activity Options
YOUR PACKAGE ALSO INCLUDES:
The Exclusive SET Network Experience Package
Urban Fantasy Private Welcome Reception
All You Can Drink

The "Black Film Fest" Private Screening

The Speak Easy Live Private Concert

The All-Stars Of Comedy Private Show

Urban Fantasy Game Day --

Grown and Sophisticated - Theme party (dress to impress night)
All You Can Drink First Hour

Rep Your City | Group or Celebration Party Night
Come show out and rep your city or come rep the reason
your on the cruise - either way come to party!

Cuban Nights Party -
Bring out your LINEN or FESTIVE colors theme night

Urban Fantasy Fall Mixt

Urban Fantasy Keepsake T shirt
Includes all taxes, not gratuity at $11.25 a day
Additional Available Excursions and Upgrades: (purchased at final payment time)
Urban Fantasy Island Getaway Excursion $100 ( grand Turks) - per person
- all you can eat, all you can drink cocktails while on the island, all ground transfers, unlimited nonmotorize water sports
including snorkeling, unlimited beach time while on island till 4p.

Island Tour - see many of the sites and sound of the islands,- TBA

Cabin Upgrades: SOLD OUT .

Pricing Information

3 People:
$750.00 per person
2 People:
$775.00 per person
1 Person:
$1150.00 per person
Payment Plan
Hold Your Package Today To FREEZE The Price & Package:
Once Held, We Create You A VIP Group Link, THEN Friends
Can Pay Through Link w/Their Own Cards & See Package Details.
Pay $50 today to hold package

$450 on or before 07 / 16 / 19

Final on or before 08 / 6 / 19
*Registration payments are not apart of the package cost. The registration payment holds the package while you make payments | creates a group account & takes package out of inventory.