Travel is big business these days
& YOU can make a good living at it.
The good money is not in every day travel anymore, it's in SPECIAL EVENTS
and that is the space we have lived since 1996.
We give you access and you don't need any:
SPECIAL LICENSES | PREVIOUS EXPERIENCE | IATA NUMBER | FORMAL TRAINING
OKAY, WHAT ABOUT ACCESS TO THE PARTIES DURING THE EVENTS?
…that's the secret sauce that makes special events so much fun!
WE MEAN ACCESS!…in the past our network offered access to parties like:
DIDDY || LEBRON JAMES || TREY SONGZ || SAFAREE || GUCCI MANE

OR PARTIES THAT HAVE FEATURED:
KEKE WYATT || ASHANTI || RASHEEDA (LOVE & HIP HOP) || LIL MO || AND MORE!

Are you ready to be THE GO TO for PARTY ACCESS?
WHAT IF YOU COULD MAKE IT ALL HAPPEN?
WITH NO OVER HEAD || NO HOTEL DEPOSITS || NO UP KEEP || NO DEALING WITH CLUB PROMOTERS
THIS IS WHAT WE OFFER WITH The Special Event Travel Network AFFILIATE PROGRAM:
• Your own company website with Inventory pre-loaded and refreshed with promotions automatically (no website up keep)
• Your own business back-end office access to the site (so you can see your sells, commissions coming, company updates and stats)
• Get Paid Monthly Commissions (no 30 day after event wait) REGARDLESS if the person travels or not, you still get paid!
• Free Marketing Tools (such as videos & photos to help you sell)
• Free Marketing Course To Show you "HOW TO" sell online.
WE LITERALLY CALL THIS A BUSINESS IN A BOX!
and you can have access to all these events, tools, and commissions for a low price!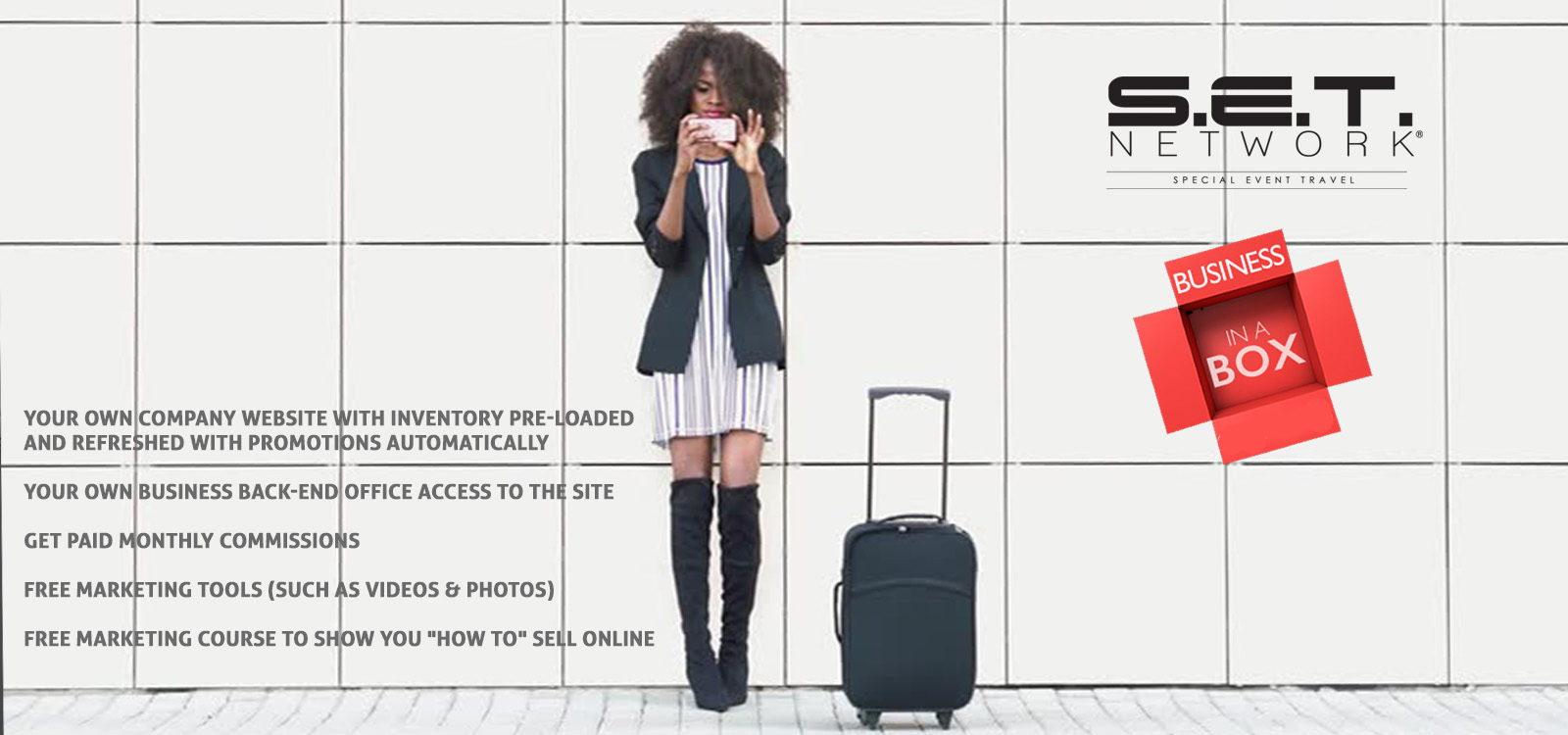 WAIT, I love what you are presenting but
I have more questions like:
So wait a minute, I have to pay to become an affiliate with SET Network?
Why, when most are free to join?
That is a really good question and the answer is simple. You get what you do or don't pay for. Here is what we mean. Our commission(s) are UNMATCHED in the industry both main stream and within other travel mom and pops operations.
So, you absolutely can join the free ones, but you will have to work EXTRA hard and be paid less for it .. but isn't the goal the other way around?
GET PAID MORE, FOR LESS WORK & RED TAPE
That is what we offer with the commission we pay, MORE for LESS and we service your people at the event at no cost to you! ..and besides if you are serious about your craft and business you know you have to invest in what you want. That said, YES we charge a fee to join and a small monthly commitment.
HOW MUCH COMMISSION DO I MAKE?
WE PAY LARGE FLAT RATE COMMISSIONS PER PERSON, PRODUCT OR THING.
Illustration: International Travel can pay as much as $175 to $200 per person. So book 10 people for one event and make
$1,750 – $2,000 take home!
NOTE:
WE PAY EVEN IF THE PERSON DOES NOT TRAVEL.
IS THERE A CONTRACT TO DO THIS?
THERE IS A MONTHLY COMMITMENT BUT NO CONTRACT. YOU CAN STOP AT ANY POINT
(though a min of 3 months is strongly recommended)
IF YOU LOVE TRAVEL…AND WOULD LIKE TO MAKE MONEY DOING IT, YOU'RE IN THE RIGHT PLACE.